Successfully change your career with this FREE eBook!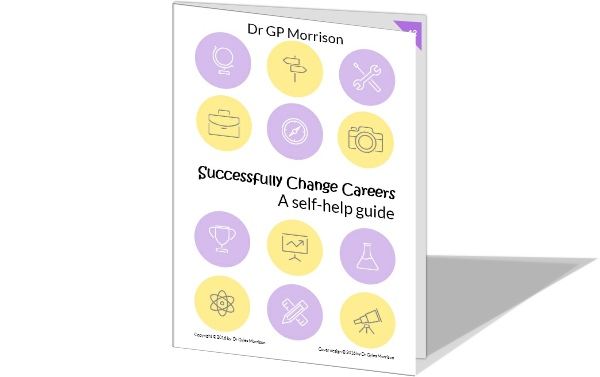 Successfully Change Careers: A Self-help Guide is a free book written by Dr Gyles Morrison AKA Dr-Hyphen, Clinical UX Designer and Career Coach for Doctors.
This guide is of benefit to anyone who isn't completely satisfied with their current career and desire a change. It can help you introduce small but significant changes to your existing job role, help you move into a completely different industry and everything in between.
"Having downloaded and read this free book, I love it. It contains many useful exercises to help the reader to explore values, skills and interests. I think this is something everyone should do on a regular basis, not just those thinking of career change but as a reminder as to why we do what we do as doctors. If our core values and interests are met by work and other parts of our lives we will be fine, if not then this books gives pointers on where we can make changes to improve things"
Readers will go through a three step process as they learn how to improve their personal and professional lives.
Get to know yourself better
Learn about your core values and learn how to put your passions, skills and interests to good use
Get to know the world better
Discover potential career options, utilising a variety of resources.
Be part of a new world
Harness the power of networking and personal branding, find mentors and successfully change your career